Labour and Survival in Yugoslavia.
Mining Industries under National Socialist Occupation (1941-44/45)
Researcher: Dr. Sabine Rutar
I investigate the consequences of national socialist labour deployment policies for regional mining industries in Yugoslavia. I study labour relationships during the Second World War and the effects of the war economy with a focus on four mining industries. The choice of the case studies was conditioned by the relevance of the mining industry for the war economy. Europe's largest copper ore mine is situated in the town of Bor in eastern Serbia; Yugoslavia's two largest lead and zinc mines were Trepça/Trepča in what today is northern Kosovo and Mežica/Mieß in southern Carinthia in today's Slovenia. Lignite from the coalfields around Trbovlje/Trifail in southern Styria (today in Slovenia as well) was important mostly for supplying upper Styria's and other industries in Austria, since 1938 annexed to the German Reich. The four mining regions represent differing socioeconomic and sociocultural contexts within Yugoslavia. All featured a multiethnic population. During the Second World War they all were occupied by Germany. Southern Carinthia (Mežica) and southern Styria (Trbovlje) came under German civil administration and were de facto annexed to the Reich, while eastern Serbia (Bor) and southern Serbia/Kosovo (Trepça) came under German military administration.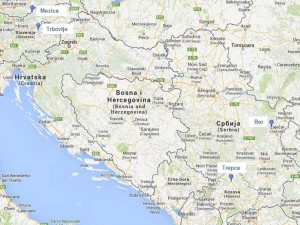 The core intention of my research is to contribute to both the history of National Socialism in Europe and to a renewed approach to the history of the Second World War in Yugoslavia. I develop the history of the war experience on the backdrop of the life worlds of work in interwar Yugoslavia: The workers in the mines reacted to German occupation on the premises of their life experiences, and it is within this framework that also concepts like "freedom" and "coercion" have to be placed. I argue that such concepts today tend to be charged in a normative manner, but that such charging does not really help to understand historical contexts.
Research on Yugoslavia in the Second World War has been heavily characterized by the need to produce clear-cut parameters – like collaborators vs. resistance fighters – and clear-cut collectives, like "the Serbs", "the Slovenes", "the Germans". In choosing an approach that puts an industry – the mining industry – in focus, I chose an approach that deconstructs such clear-cut categories.
The majority of the workers "simply" continued to work in the mines now under German occupation. A good part of the skilled personnel, instead, abandoned their work upon the attack on Yugoslavia and proved to be difficult to replace. In the course of the war, when the general war situation deteriorated and due to the effects of the dialectic between occupiers and the various sociopolitical groups, the workers increasingly refused to work and abandoned their workplaces. This then led to ever more drastic measures on the part of the occupiers.
Alf Lüdtke's notion of Eigen-Sinn helps much to break up the dominant interpretative patterns, to pursue a history "below" the political, to reconstruct the life worlds of people at war, their sufferings and their struggles to survive. The war brought a radical and violent dissolution of existing structures and values, while the occupiers at the same time attempted to make use of them and exploit them. My narrative thus is one of "survival as social practice", broadly put.
Publications
Sabine Rutar: Sozial- und alltagsgeschichtliche Ansätze zur Arbeit unter deutscher Besatzung. Bergbauindustrien in Jugoslawien im Krieg, in: Historie. Jahrbuch des Zentrums für Historische Forschung Berlin der Polnischen Akademie der Wissenschaften, 7/2014: Besatzung (in preparation)
Sabine Rutar: "Unsere abgebrochene Südostecke…". Bergbau im nördlichen Jugoslawien (Slowenien) unter deutscher Besatzung (1941–1945), in: Michael Wildt / Marc Buggeln (Hg.), Arbeit im Nationalsozialismus, München: Oldenbourg, 2014 (in press)
Sabine Rutar: Towards a Southeast European History of Labour: Examples from Yugoslavia, in: Sabine Rutar (Hg.), Beyond the Balkans. Towards an Inclusive History of Southeastern Europe, Wien, Zürich, Berlin: Lit, 2014 (Studies on South East Europe, 10), S. 325-356.
Sabine Rutar: Die Gestalt(ung) des Sozialen: Jugoslawische Bergbaugesellschaften 1918-1945, in: Gorazd Bajc / Borut Klabjan (Hgg.), Pirjevčev zbornik. Poti zgodovine med severnim Jadranom, srednjo in vzhodno Evropo: ob 70. obletnici akad. prof. dr. Jožeta Pirjevca, Koper: Založba Annales, 2011, S. 445-464.
Sabine Rutar: Employment of Labor in War-Time Serbia: Social History and Politics of Amnesia, in: Sabrina P. Ramet / Ola Listhaug (Hgg.), Serbia and the Serbs in World War Two, Basingstoke: Palgrave, 2011, S. 44-69.
Sabine Rutar: Besetztes jugoslawisches Gebiet Slowenien, in: Gerd R. Ueberschär (Hg.), Handbuch zum Widerstand gegen Nationalsozialismus und Faschismus in Europa 1933/39-1945, München: de Gruyter 2011, S. 269-280.
Sabine Rutar: Oral History as a Method: Variants of Remembering World War Two in Slovenia, Serbia, and Bosnia-Herzegovina, in: Constantin Iordachi (ed.), Rethinking the Social. Writing Social History in East Central Europe. East-Central Europe / L'Europe du centre-est. Eine wissenschaftliche Zeitschrift, Vol. 34-35/1-2 (2007/2008), Budapest: CEU, 2009, S. 245-265.
Sabine Rutar: Vloga železnice pri gospodarskem izkoriščevanju Slovenije med drugo svetovno vojno: prispevek k odprtim raziskovalnim vprašanjem [On the role of the railway in the economic exploitation of Slovenia during the Second World War: A contribution on open research questions], in: Borut Klabjan / Urška Železnik (eds.), Zgodovina prometnih povezav: 150 let Južne Železnice / The History of Transport Connections: 150 Years of the Southern Railway. Acta Histriae 16/3 (2008), Koper: Univerza na Primorskem, Znanstveno-raziskovalno središče, S. 315-324.
Sabine Rutar: Totalitarian Structures and Social Practice: Deviance in Yugoslavia Between 1941 and 1951, in: Darko Darovec (ed.), Retorike Deviantnosti: Kriminalci, izobčenci in devianti skozi zgodovino / Rhetoric of Deviance. Criminals, Outlaws, and Deviants in History, Koper: Univerza na Primorskem, Znanstveno-raziskovalno središče, 2007 (Actae Histriae 15/2), S. 769-780.
Sabine Rutar: Munka és túlélés Szerbiában. A Bor-i rézbánya a második világháborúban, in: Balázs Schuller, Dénes Sokcsevits (Hg.), Pillantás a Balkánra. Interdiszciplináris tanulmányoka XX. századi Balkán-félszigetről. Looking at the Balkans. Interdisciplinary Studies On The Balkan Peninsula in the 20th Century, Pécs 2007, S. 49-87. (Übersetzung ins Ungarische von 'Arbeit und Überleben in Serbien: Das Kupfererzbergwerk Bor im Zweiten Weltkrieg' [Geschichte und Gesellschaft, 31 / 2005])
Sabine Rutar: Heldentum, Verrat und Arbeit in Jugoslawien: Arbeitseinsatz im sozialistischen Kontext, in: Hans-Christoph Seidel, Klaus Tenfelde (Hg.), Zwangsarbeit im Europa des 20. Jahrhunderts. Bewältigung und vergleichende Aspekte, Essen: Klartext, 2007 (Veröffentlichungen des Instituts für soziale Bewegungen, Schriftenreihe C: Arbeitseinsatz und Zwangsarbeit im Bergbau, 5), S. 75-101.
Sabine Rutar: Arbeit und Überleben in Serbien: Das Kupfererzbergwerk Bor im Zweiten Weltkrieg, in: Geschichte und Gesellschaft 31 (2005), Göttingen: Vandenhoeck & Ruprecht, S. 101-134.
Sabine Rutar: Zwischen Volkstumspolitik und Volksbefreiungskampf. Braunkohlenabbau im deutsch besetzten Slowenien, in: Klaus Tenfelde – Hans-Christoph Seidel (Hg.), Zwangsarbeit im Bergwerk. Der Arbeitseinsatz im Kohlenbergbau des Deutschen Reiches und der besetzten Gebiete im Ersten und Zweiten Weltkrieg, Essen: Klartext, 2005 (Veröffentlichungen des Instituts für soziale Bewegungen, Schriftenreihe C: Arbeitseinsatz und Zwangsarbeit im Bergbau, 1), S. 537-569.
Sabine Rutar: Arbeit unter deutscher Besatzung. Die wirtschaftliche Ausbeutung des Braunkohlenreviers Trbovlje, in: Gerhard Jochem – Georg Seiderer (Hg.), Entrechtung, Vertreibung, Mord. NS-Unrecht in Slowenien und seine Spuren in Bayern 1941-1945, Berlin: Metropol, 2005, S. 205-222.
Presentations (selection)
Sabine Rutar: 'Zwangsarbeit' als Forschungsgegenstand: Bergbau in Jugoslawien unter deutscher Besatzung, 19. Juni 2014, Masterseminar "Im Südosten nichts Neues? Ansätze der internationalen Forschung zum Zweiten Weltkrieg in Südosteuropa" (Hannes Grandits, Xavier Bougarel)
Sabine Rutar: Arbeit und Überleben in Jugoslawien. Bergbau unter NS-Besatzung 1941-1944/45, 30. Mai 2013, Kolloquium des Lehrstuhls Geschichte Moderner Gesellschaften (Thomas Welskopp), Universität Bielefeld
Sabine Rutar: Arbeit und Überleben in Jugoslawien. Bergbau unter NS-Besatzung 1941-1944/45, 24. April 2013, Kolloquium des Lehrstuhls Wirtschafts- und Sozialgeschichte (Mark Spoerer), Universität Regensburg
Sabine Rutar: Labour and Survival in Yugoslavia. Mining Industries under National Socialist Occupation 1941-1944/45, 11. März 2013, Kolloquium des Imre Kertész Kollegs Jena
Sabine Rutar: Arbeit und Überleben in Jugoslawien. Bergbau unter NS-Besatzung 1941-1944/45, Tagung "Arbeit im Nationalsozialismus", 13.-15. Dezember 2012, Humboldt-Universität zu Berlin, IGK Arbeit und Lebenslauf in globalgeschichtlicher Perspektive (org. Michael Wildt und Marc Buggeln)
Sabine Rutar: Forced Labor in War-Time Serbia, Tagung "Serbia and Serbs in World War Two" (Sabrina P. Ramet / Ola Listhaug), 4. – 5. Juni 2010, Norwegian University of Science & Technology, Trondheim/Norwegen