Marginal Workers.
Prostitutes, Vagrants and Jobless People in Yugoslavia (1918–1941)
Researcher: Dr. Stefano Petrungaro
The main aim of this research project is to investigate – referring to the Yugoslav case between the two world wars – the interrelation between State and those who I call "marginal workers". It is a way for intertwining social history and the history of subaltern classes, with the new labour history, raising relevant questions about welfare state, state interventionism, political cultures, and official practices towards the investigated socio-professional groups.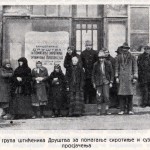 Interwar Yugoslavia was inhabited by a big variety of "marginal workers", whose jobs occupied the lowest positions on the hierarchy of "normative" jobs, so that they were almost expelled from that what was generally seen as "proper work". We deal with "precarious", semi-legal and occasional workers (ie. travelling artists and artisans, apprentices, prostitutes), who were temporarily jobless and by occasion beggars and vagrants. The differences among these social figures were very slight, especially in the examined period, which suffered from the effects of the world economic crisis of 1929. These social actors lived at the margins of the officially and socially recognized "work", they built the world of the so-called "non-work", ie. the world of those who didn´t have a job or had only a "precarious" and somehow "marginal" job. This research project will focus on Yugoslav main cities, first of all Ljubljana, Zagreb, Belgrade, Sarajevo and Skopje.
Several institutions dealt directly with "marginal workers": state authorities (first of all some State Ministries and Offices like the "Central Agency for Work Intermediation"), city councils, the police, the court, public and local institutions like the Work Chambers and the Offices for Work Intermediation, as well as private and public aid institutions.
How were people at the fringes of the labour market defined and treated in the juridical and judicial field? Which political cultures and representations of work did influence the hierarchy of "non-workers"? Which aid and repressive measures were developed in the interwar period, with the aim to identify, to help, but also to put under control and eventually to punish people at the margins of urban labour? Which public institutions were engaged? Which mentalities did support such initiatives? And which effects did all this have for the everyday life of the investigated marginal actors?
This research project raises central questions concerning the issue of modern unemployment, of modern "deviance" and the measures taken against it. During the investigated time traditional elements (e.g. private and confessional humanitarian societies) merged with more mundane and "modern" ones (first forms of welfare state). The research has to do with times and forms of modern state-building in South-Eastern Europe with special attention to Yugoslavia, with the emerging modern welfare state in this country, the genesis of state interventionism, and the effects of "social hygiene" programs.
Publications
Stefano Petrungaro, The Fluid Boundaries of "Work". Some Considerations Regarding Concepts, Approaches, and South-Eastern Europe, in "Südost-Forschungen", 73 (2014), in press.
Presentations
Stefano Petrungaro, Unterwegs. Über einige Arbeitsbewegungen in Jugoslawien (1918–1941), Forschungskolloquium "Neue Perspektiven in der Ost- und Südosteuropäischen Geschichte", IOS Regensburg, 27.04.2012

Stefano Petrungaro, Am Rande der Arbeit. Staat, Gesellschaft und "nicht-Arbeit" in Jugoslawien (1918–1941), Oberseminar zur Geschichte Südosteuropas, Prof. Marie-Janine Calic, LMU – München, 14.11.2012
Stefano Petrungaro, Arbeiterasyle. Der jugoslawische Fall der Zwischenkriegszeit (1918–1941), Kolloquium Osteuropäische Geschichte, Prof. Michael G. Müller, Martin-Luther-Universität Halle-Wittenberg, 16.01.2013
Stefano Petrungaro, Order, assistance and normalization: State and marginal groups in interwar Yugoslavia (1918–1940), EHESS (École des hautes études en sciences sociales), CETOBAC (Centre d'études turques, ottomanes, balkaniques et centrasiatiques), Prof. Nathalie Clayer, Paris, 03.06.2013
Stefano Petrungaro, Yugoslavia (1918-1941) Looked Through Corporatist Glasses, ESSHC (European Social Science History Conference), Vienna, 23-26 April 2014