Between class and nation: Working class communities in 1980s Serbia and Montenegro
Austrian Science Fund (FWF) project number: P27008 (Stand-alone project/Einzelprojekte)

Researcher: 
Rory Archer, Centre for Southeast European Studies, University of Graz
Goran Musić, European University Institute, Florence/ Centre for Southeast European Studies, University of Graz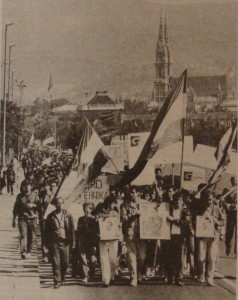 This project explores working class communities in Serbia and Montengro during the 1980s in an attempt to generate new insights on interactions between social class and ethno-nationalism and about the agency of working people in the conditions of late Yugoslav socialism. Despite the great volume of scholarly works treat the Yugoslav state and its demise from various disciplinary and thematic perspectives, few studies keep the role of the working class at the core of analysis.
Two research questions structure the project:
How was the gap between official Yugoslav self-management ideology and social reality mediated by the working class during the 1980s?
How did national(ist) and social demands intersect inside working class milieus?
The project relies empirically on four case studies of working class communities which include an industrial suburb of Belgrade, two provincial Serbian towns and an industrial centre in Montenegro. A focus is made on three interconnected levels of analysis: the home;the workplace; and interventions in public space. Through a micro-level approach the project seeks insight into macro processes of social and political change in 1980s Yugoslavia. The project is attentive to the ways in which ordinary people – industrial workers and their families – negotiated, subverted, shaped (and were themselves shaped by) broader policies and processes in everyday practice. Through focusing on linkages between micro and macro levels, between the particular working class communities and the broader political and socio-economic context, the project seeks to advance the state-of-the-art with regard to organised labour, class and everyday life in late Yugoslav socialism.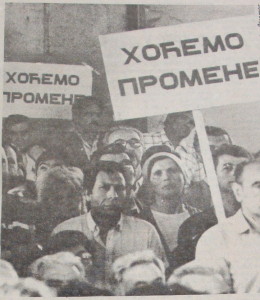 The project is funded by the Austrian Science Fund (FWF) is a three year project led by Univ. Prof. Dr. Florian Bieber employing researchers Rory Archer (PhD candidate at the University of Graz) and Goran Musić (PhD candidate at the European University Institute, Florence) at the Centre for Southeast European Studies, University of Graz.
As signatories to the Berlin Declaration on Open Access to Knowledge in the Sciences and Humanities, both the FWF and the University of Graz are committed to advancing sustained Open Access to scholarly publications and research data. All publications written in the frame of the project will be made publicly available via the project's web platform: http://www.suedosteuropa.uni-graz.at/en/project/between-class-and-nation